There is more to crushing and shredding than just feeding rocks and scrap cars to a machine through a conveyor. Every company in the field, from the globalized conglomerate to the family-run enterprise, has learnt that high quality, efficient logistics and affordable pricing are all key factors in maintaining steady operations and increasing productivity of plants and men alike.
By the same token, the supply of wear parts does not amount to plain foundry operations only – what can really tip the scales is the ability to manage the entire procurement process in a smooth and efficient way. We offer an integrated service where quality, flexibility and pricing all play a paramount role. In other words, we don't limit ourselves to cast wear parts; rather, we design, manufacture, ship and deliver them to the doorstep of your plant. Much to your relief, we take care of everything.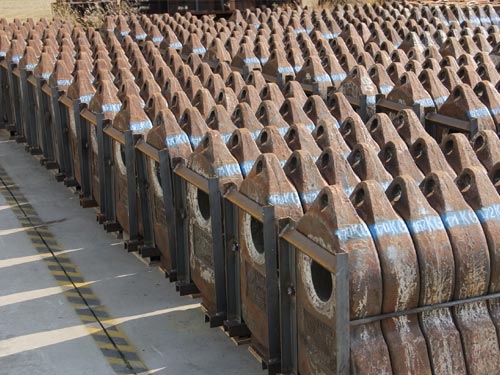 Range Crushing
Our products strike hard, while at the same time enduring wear, abrasion and corrosion to an unprecedented scale: that is why several leading companies in the crushing industries have chosen us as their main supplier, enabling us to amass a considerable experience in the field. Our product range includes everything that packs a punch or takes it:
hammers
jaws
plates
cones
liners
and other components are all part of the array of products at your disposal.
Range Recycling
Much the same amounts for our range of products dedicated to the recycling sector. In this, we have mainly specialized in wear parts for shredding and fragmentizing plants. Our signature product? Simple: hammers. But not only:
liners
open and close grates
roof covers
pin protectors
hammer pins
reject doors
anvils
feed rollers
rotor caps
rotors
We can produce everything needed to steadily and continuously run your shredder.
Quality and Materials
We offer a full range of wear resistant steels designed for state-of-the-art performance in terms of durability and reliability. Have any special needs? Our ever-expanding materials program can be easily supplemented with alloys tailored to your specific needs.
Material
Austenitic Manganese Steel
Austenitic Manganese Steel
Low Carbon Alloy Steel
Our designation
Mn13
MnCr13-2,
MnCr18-2,
MnCr20-3,
Mn1,
Mn2,
Mn3
E28H,
RS27
Properties and usage
Best compromise between hardness and toughness, delivers proven reliability at the most convenient price point
The percentage of alloying elements Cr and Mo can be adjusted to fit higher thickness and weight, increasing wear resistance and hardenability. Its excellent durability makes it suitable for almost all uses in the field of crushing and shredding, from heavy duty crusher jaws to hammers and shredder components of all sorts.
High performance martensitic steels with outstanding service life. In hammers, beating and bore area can be differentially heat treated to maximize impact force and minimize shaft wear. Hardness on installation between 50 and 60 HRc
Our quality policy is driven by care and non-stop innovation. We offer full ISO9001:2008 compliance and a range of adopted standards including AISI, ASTM, DIN, EN, UNI.